SHMÚ vydal meteorologické výstrahy na



Display warnings
Monitoring sucha na Podunajskej a Východoslovenskej nížine k 15.3.2015
16.3.2015 | RNDR. PAVEL ŠŤASTNÝ, CSC., MGR. LÍVIA LABUDOVÁ, MGR. MAROŠ TURŇA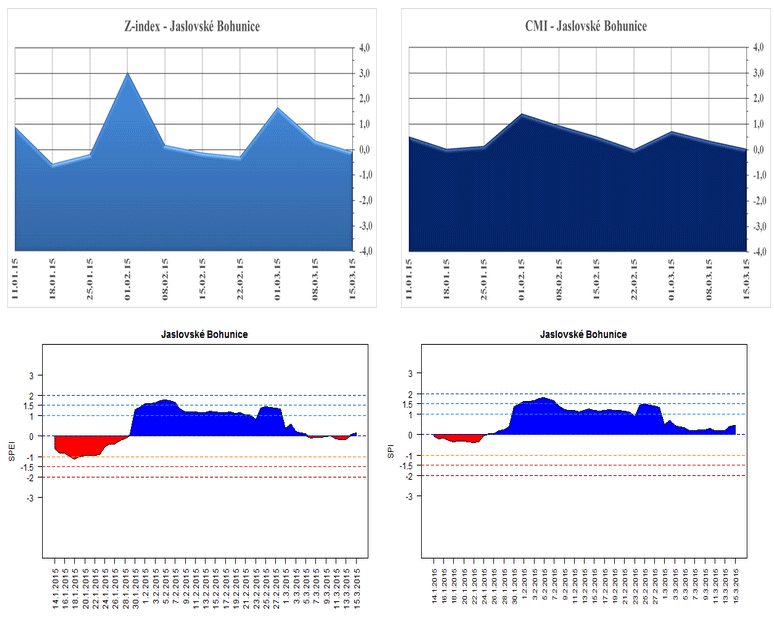 Týždenná správa pre 9.3. - 15.3.2015 v rámci monitoringu sucha informuje o aktuálnej situácii sucha na Podunajskej a Východoslovenskej nížine z klimatologického hľadiska za uvedený týždeň. Monitoring sucha prebieha prostredníctvom štyroch indexov sucha - SPEI, SPI, Z-index, CMI, ktorých priebeh je znázornený v grafoch. Bližší popis k indexom sucha je uvedený na tejto stránke.
V uplynulom týždni sa opäť prejavili regionálne rozdiely medzi Východoslovenskou a Podunajskou nížinou. Na východe územia totiž aj naďalej pretrváva suché obdobie, aj keď vplyvom ochladenia a zrážok na konci týždňa hodnoty indexov SPEI a SPI mierne vzrástli. Regionálne rozdiely sa prejavili aj v rámci Podunajskej nížiny, kde sever územia dosahuje hodnoty SPEI blízke 0 a hodnoty SPI sú dokonca kladné. Najvyšší deficit bol zaznamenaný na juhozápade územia (stanica Bratislava - Ivanka). Na Podunajskej nížine prevládalo v prvej polovici uplynulého týždňa slnečné a teplé počasie, čo podmienilo zvýšenú evapotranspiráciu, a tým navýšilo vlahový deficit.
V uplynulom týždni spadlo najmenej zrážok v oblasti Ivanky pri Dunaji, a to 1,3 mm. Naopak, najviac zrážok spadlo v oblasti Somotora, a to 6,8 mm. Najnižšie hondoty Z-indexu v intervale -0,44 až -0,40 sa vyskytli na staniciach v Ivanke pri Dunaji a Žihárci. Najvyššie hodnoty v intervale -0,06 až -0,10 sa vyskytli na staniciach na Východoslovenskej nížine. Najvyššie hondoty CMI v intervale 0,02 až 0,05 sa vyskytli na staniciach v Somotore, Milhostove a Jaslovských Bohuniciach. Na ostatných staniciach sme zaznamenali hondoty CMI na úrovni 0,00.
Bratislava - Ivanka pri Dunaji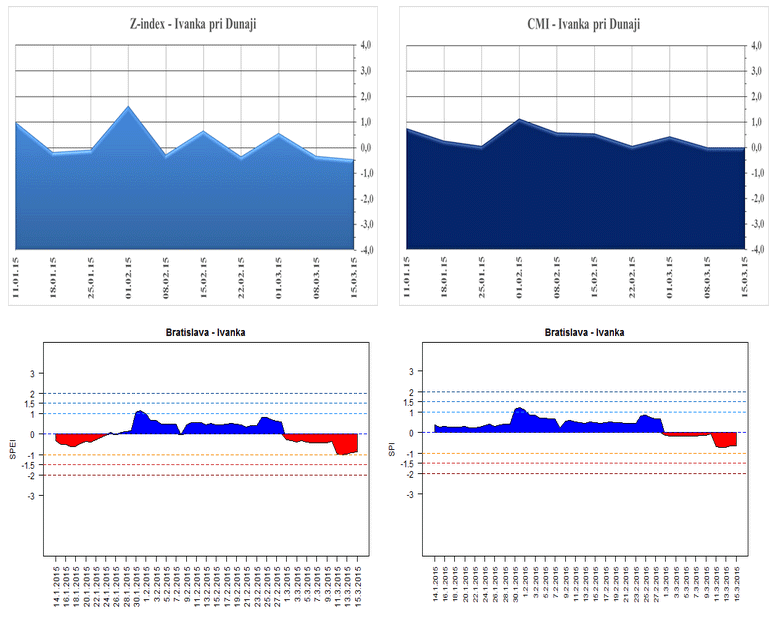 Jaslovské Bohunice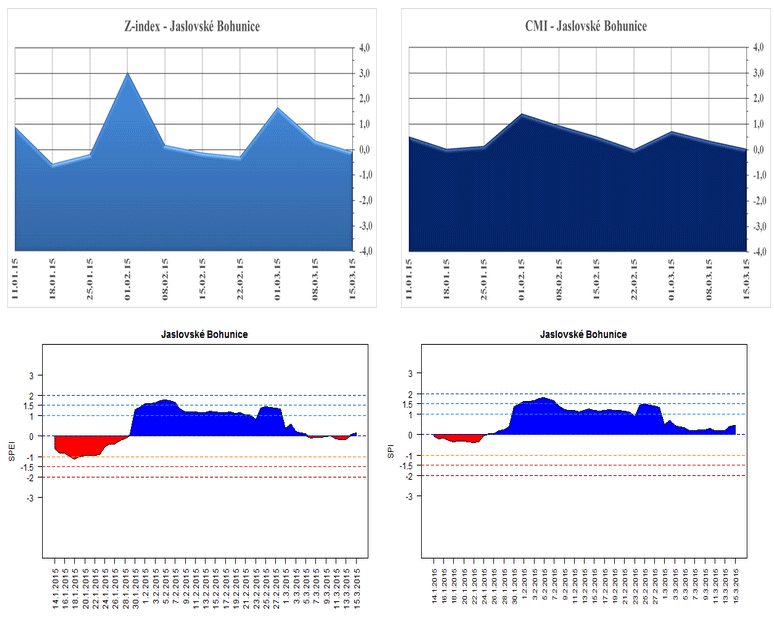 Piešťany
Žihárec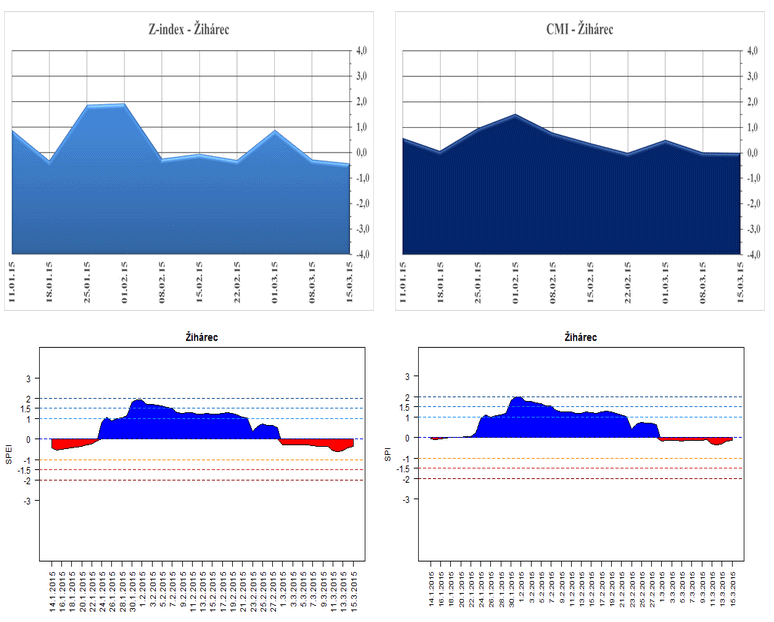 Nitra - Veľké Janíkovce
Hurbanovo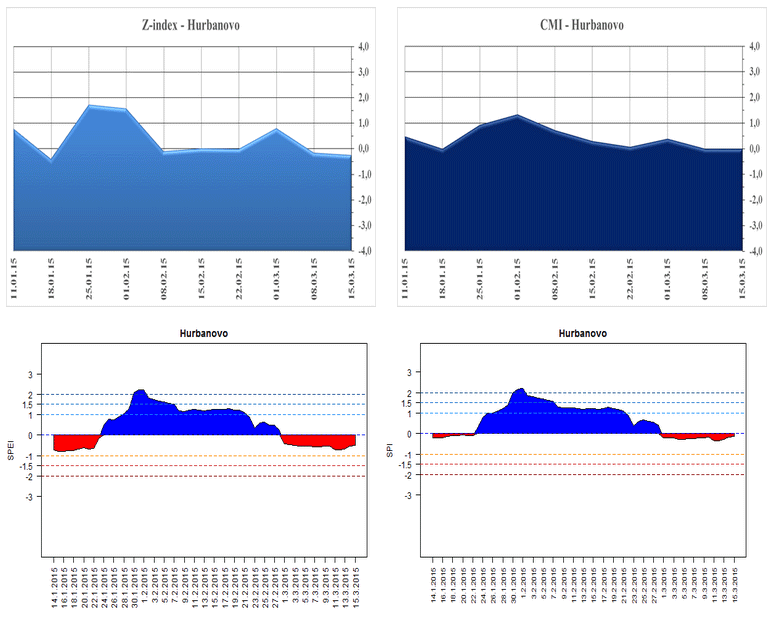 Milhostov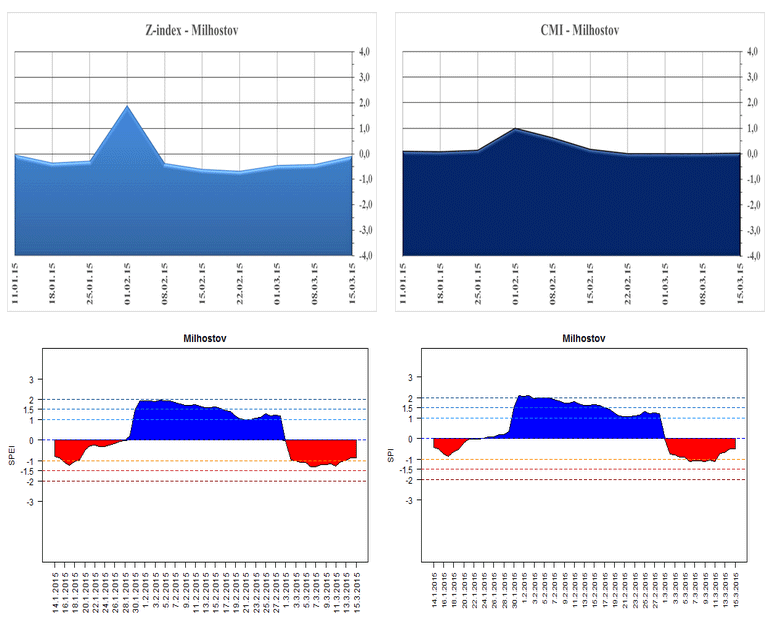 Somotor
Ďalšia aktualizácia bude v pondelok 23.3.2015.
---